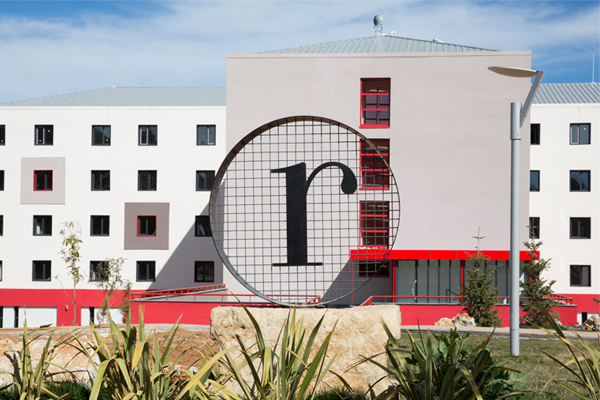 The Residorm dormitory in the Kötekli campus of the Muğla Sıtkı Koçman University is designed to provide a comfortable and secure place for the university students to stay at affordable prices. In the rooms, there is a study desk, a chair, a locker, a shelf, and a study lamp for each student, as well as a fridge, internal telephone, and hairdryer. (Hairdryers are available only in the female block). In the rooms, the bathroom and the toilet are separate for ease of use, and we gave priority to the student's comfort and security while building our facilities.
The students staying in the Residorm dormitories may benefit from various services on a 24 hours basis, such as security, heating, reception, wireless internet and housekeeping.
Would you like to take a tour in Residorm?
7/24 security camera recording
Controlled entrance and exit
Utilities and internet included in the monthly fee
Hot and cold water dispensers
Disabled accessible rooms
Events and competitions throughout the year
Would you like to check the map of the campus?
Separate bathroom and a toilet in each room
Personal study desk, chair, bed, and locker
Personal dresser, reading lamp, and studying lamp in each room
Wireless internet
Telephone and hairdryer in each room (Hairdryers are only available in the female block).
Mini fridge for common use in each room
2 personal secure electricity sockets on each study desk
Led lamps in rooms and bathrooms
Nonflammable comfortable beds in hotel standards, sheets, pillows, and duvets
Mattresses are covered with a fire retardant fabric, and they are spring beds
Each bed is located above the personal study desk
Colorfully designed and decorated rooms
All rooms have exterior windows and are spacious and light
There is a scissor system on each window for security purposes
Curtains on the windows
Residorm Shopping Facilities
The stores in the shopping facilities next to the Residorm Muğla dormitory provide services to all students and university employees in the campus.
There are various stores in this shopping facilities, such as a supermarket, cafes and restaurants, and a fitness center.
Muğla Sıtkı Koçman University Kötekli Kampüsü
304 Sok. No: 2/1 Kötekli Mah. Merkez/MUĞLA
Telephone: +90 252 999 1 666
E-mail: mugla@residorm.com